Foli has partnered with Simon & Schuster to offer guests best-seller Books digitally during their stay at hotels, resorts, airport lounges, and other business venues.  Now, every business can establish a library and offer valuable content to enhance guests' entertainment, loyalty, and overall stay. No more physical limitation on space! No more operational pain in dealing with paper!
You may read the full press release below or at goo.gl/8mRjm9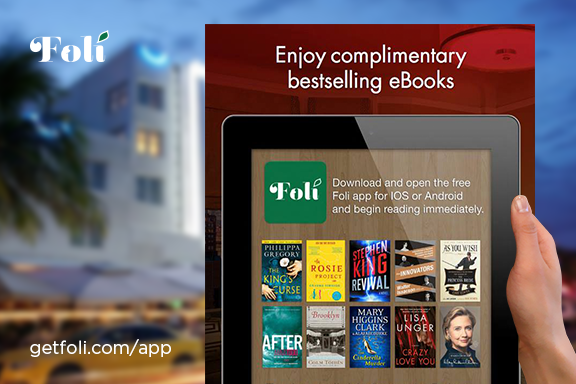 SIMON & SCHUSTER TEAMS WITH FOLI TO HELP READERS DISCOVER BOOKS AT…. WELL, ANYWHERE
Exclusive Full-Book Sampling Program Takes Flight on May 15 with David McCullough's THE WRIGHT BROTHERS
Launch Program to Feature Bestselling and Acclaimed Complete eBooks Made Available in Select Hotels and Airport Lounges Nationwide
NEW YORK, May 13— For publishers and authors, the ability to bring their books to the attention of audiences at live events, to travelers at hotels and in airports and train stations, to visitors at museums and exhibitions, or any geographical location has long been constrained by the cost and physical limitations of transporting and displaying large quantities of books, and more recently, by the technical hurdles of placing ebook content within closed networks and systems.
Now, through an exclusive partnership with Foli, a digital content mobile distribution platform, Simon & Schuster is breaking down those traditional barriers to book discovery.  Employing Foli's geo-location technology, the publishing company can deliver a specific book, or a selection of books, to pinpointed locations anywhere, enabling consumers to read Simon & Schuster's books while they remain at the location.
This new chapter in book discovery will take off in a big way on May 15 when Simon & Schuster offers the chance to read David McCullough's highly anticipated new biography, THE WRIGHT BROTHERS, to visitors at the National Air and Space Museum, at more than 50 major airports nationwide, including in the "First in Flight" state of North Carolina, and at the Wright Brothers Memorial in Kill Devil Hills, North Carolina.  As with Foli's magazine offerings delivery is simple and convenient – visitors to the museum or travelers at the airport simply download the Foli app to their phone or tablet (available for iOS or Android) and they can begin reading immediately.
In addition to THE WRIGHT BROTHERS offering, effective immediately Simon & Schuster is making available a selection of 18 books in a number of hotels and airport lounges nationwide.   Guests will be able to enjoy such popular and acclaimed titles as REVIVAL by Stephen King, AFTER by Anna Todd, THE INNOVATORS by Walter Isaacson, BROOKLYN by Colm Toíbín, THE ROSIE PROJECT by Graeme Simsion and CRAZY LOVE YOU by Lisa Unger.  The complete books will be available to guests for up to three days while they are at their location, with an option to purchase available at all times.
Participating hotels at launch include New York's The Algonquin, Four Seasons Silicon Valley, Rosewood Sand Hill, Stanford Court San Francisco, Galleria Park Hotel, Aloft Silicon Valley, Hilton Garden Inn San Mateo, Hotel Wailea, Gale South Beach, Vintro Hotel & Kitchen and Valencia Group Hotels in Austin, Houston, San Antonio, Kansas City and San Jose. Participating airport lounges include the Virgin Atlantic Clubhouse and British Airways Lounge at San Francisco International Airport.
"The possibilities for targeting where we can share our books are now virtually limitless, and we look forward to using Foli's capabilities in creative and timely ways to bring our books to readers," said Liz Perl, Executive Vice President, Chief Marketing Officer of Simon Schuster. "Travelers, concert-goers, café patrons, attendees at sporting events and conventions and museum visitors, to name just a few groups, are a natural audience for book content. Foli provides a user-friendly solution for readers and a unique vehicle for Simon & Schuster to reach them."
"We are honored and extremely excited to partner with Simon & Schuster, a forward-thinking publisher that is skilled at leveraging new technology in the digital world to do what cannot be done in the print world," said Henry He, Founder & CEO of Foli. "More and more consumers are using their mobile devices to read. With full-length best-seller ebooks from Simon & Schuster, businesses like hotels and airport lounges can offer a differentiated service to wow their customers. We are thrilled that, as a technology platform, Foli creates another win-win-win solution for consumers, businesses, book publishers and authors!"
"Being the first hotel in Silicon Valley to offer Foli has been a fantastic benefit to our guests," added Tracy Mercer, General Manager of Four Season Silicon Valley.  "As a launch partner, we're excited to introduce the enhanced benefit of offering full books in addition to the magazines offered.  We are always looking for ways to embrace innovation and technology and Foli fits in perfectly!"
The Wright Brothers by David McCullough Will Be Available for Reading via The Foli App in the Following Airports on May 15: http://1.usa.gov/1zebggT