The InterContinental San Francisco, a luxury, eco-friendly hotel hosting a steady stream of top executives, dignitaries, and presidents each year, has decided to offer Foli's Digital Concierge to their distinguished guests.  The service was selected to provide guests curated local information in an efficient, eco-friendly, customized, digital format;  communicating and delivering essential tips and guides to guests in a more meaningful and cost-effective manner.
"As a LEED Gold Certified hotel, partnering with Foli made perfect sense. It was an opportunity to improve our guests' experience without increasing our carbon footprint," says Siamak Nassirpour, Director of Operations, InterContinental San Francisco.  "Now we have a beautiful, custom platform to promote our hotel services and local attractions. We're so proud of it, we have it on display in our lobby for all guests to see! It decreases our costs and offers a better user experience for our guests. It's a true win-win!"
While the hotel has a dedicated concierge team available to guests 24/7, once a guest exits the hotel they must rely on their memory or bulky paper brochures and maps provided by the team.  Not anymore.  InterContinental San Francisco saw an opportunity to improve this outdated, inconvenient process thru Foli.  It was time to update business as usual.  As a luxury hotel focused on eco-friendly solutions, Foli was the perfect fit.
"The Foli Digital Concierge not only eliminates wasteful paper, but it truly enhances the guests' experience while providing a multimedia tool to assist the concierge team.  It puts all hotel and local information into guests' hands in a paper-free, interactive, convenient way," says Bill Sutton, Chief Concierge, InterContinental San Francisco.
"Foli's beautiful display with high-resolution images and videos offers our team a paper-free tool to show guests the city we love!" says Sutton.  "It's using the latest in technology to improve upon the high-quality, high-touch concierge service our team provides day-in and day-out.  The best part is guests can save our locally curated content right on their phone or tablet to take with them.  Simply put, it's a beautiful, interactive, visual display for us to better serve our guests and reach more of them!"
Guests simply download the free Foli app (www.getfoli.com/app), the hotel branded storefront loads automatically, and guests view all information on their mobile device from the comfort of their room, or while exploring the unfamiliar city.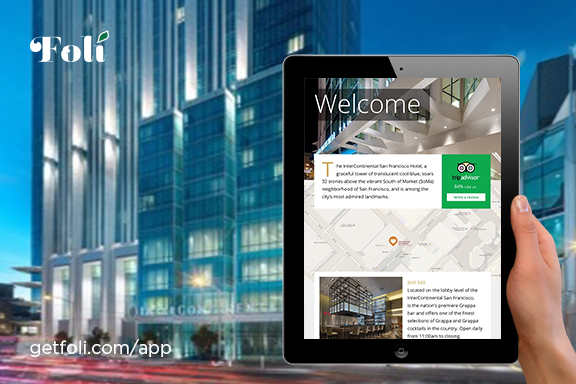 There are over 7 billion people on earth and 6.5 billion of them are mobile subscribers.  It's time to reach guests where they are: on their mobile devices.  According to surveys, 70% of travelers say a hotel's digital amenities impact their booking choices.  Hotels must cater to these new digital demands, yet continue to provide impeccable high-touch service.
Guests love Foli's digital concierge, and InterContinental San Francisco has already received rave reviews on the service.  "I noticed they had an iPad on display with all of their concierge recommendations on it.  It was really cool and when I asked about it, I learned that it was actually an App offered by the hotel that I could download and take with me. I did, and it was great!" says Mark, LA, Tripadvisor reviewer.  "I was able to save all their information on my phone and use it while out exploring the city, the restaurant recommendations were especially helpful … I'll definitely be using it for future stays."
With Foli's digital solution you can expand the reach of your dedicated team, and add value to your guests' stay.  Remove wasteful, costly, inefficient paper and offer your guests curated, personal experiences.  It's simple.  Enhance your guest experience, save paper, and add convenience with Foli.

Get started today with a free demo and estimate for your hotel: www.getfoli.com/#getfoli