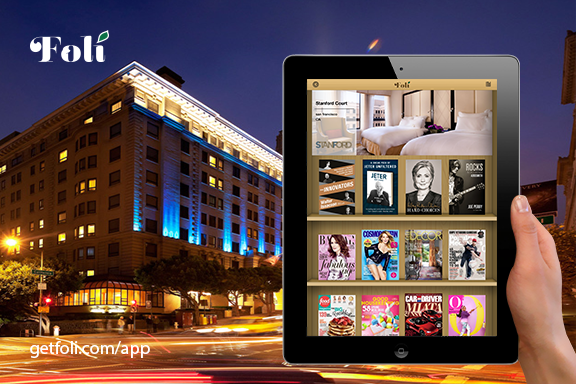 Sitting atop uber-traditional Nob Hill, overlooking the California & Powell Cable Cars, sits 100-year-old Stanford Court.  A turn-of-the-century hotel that has not lost its charm on the next generation one bit.  Due primarily to a spectacular $35 million dollar renovation in 2008, led by current General Manager Michael Baier, this classicly San Francisco hotel has been drawing a young demographic of business and leisure travelers ever since.  Its contemporary redesign and forward-thinking tech capabilities are at the helm of this hotels double-digit increase in RevPar over the past few years.
The Stanford Court's most recent renovation added tech features throughout the hotel.  From an auto court "Juice Bar" where guests can recharge their electric vehicles to the tech-friendly lobby where personalized iPads greet guests at check-in and huge screens  display live-action shots of the scenic surroundings.  Free, truly fast, hi-speed wifi streams from the guest rooms to the lobby, where complimentary MacBooks, iPads, and the Google Glass Explorer program are available 24/7.  The in-house restaurant, Aurea Café, offers touch screen menus and electrical outlets beneath each table.  Looking to provide more personal, timely service, Stanford Court invites each guest to text the manager direct – at anytime, for anything.
All of these tech-enhancements have not gone unnoticed or unappreciated by guests.  It's no surprise that the once ill-fated hotel is now bringing in record breaking revenue numbers year-over-year with no sign of slowing down.  Many hotels in the area have taken notice of the Stanford Court's successful turnaround, looking to their tech innovations for inspiration next-door.  As the Stanford Court nears another multi-million dollar renovation in 2015, General Manager Michael Baier continues to set his sights on the Next Big tech-innovation for his guests.
Where does Baier see things going?  Two things: keyless entry and Foli.  Stanford Court is the latest hotel in San Francisco to offer its guests Foli, an app full of digital multimedia interactive magazines and eBooks from top publishers.  "It's a really cool service!  I was impressed the moment I opened Popular Mechanics on Foli.  I couldn't believe the interactive, enhanced features now available from these popular magazines in a digital format," says Baier.  "This is exactly the sort of Wow factor we want to deliver to our guests.  Static paper and pdf reading materials are a thing of the past, modern travelers expect the latest in technology and that's exactly what Foli offers."
Baier sees a paper-free future with Foli that's better for the environment as well as a hotels bottom-line.  "One of the greatest things about Foli is that it offers unlimited shelf space and is environmentally friendly," he says.  "With Foli we have now expanded the number of publications we offer and won't need to replace as many physical magazines which supports our green initiatives."  Saving paper means a better service for guests, as well as a decrease in operation and printing costs.  "Foli can also host all of our hotel information, from our restaurant menu to guest services and local recommendations for guests.  With Foli, we can continue our move away from paper throughout the hotel, while offering our guests a modern, convenient amenity more suited to their lives," concludes Baier.
Do you manage a hotel or resort?  Would you like to offer your guests the latest in tech to increase your RevPar and decrease your operation costs?  Contact Henry He, Foli Founder & CEO: hhe@encipit.com or visit www.getfoli.com/#getfoli to learn more.