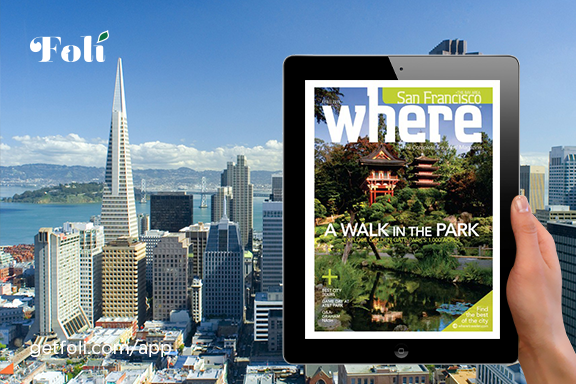 The popular locally curated Where Magazine is looking to the future of travel and consumer content consumption in their new partnership with Foli.  Foli, the premier platform for serving premium multi-media interactive digital magazines and business specific content to engage and improve guests stay, is excited to bring this new FREE digital offering to hotels & resorts.
Millions of travelers enjoy reading Where Magazine's inspiring local content offered in major metropolitan areas worldwide.  Foli's partnership with Where Magazine allows Hotels & Resorts of all size and level to offer a digital copy of the popular local content to their guests.  There is no additional cost or overhead for hotel's to offer this digital version.  Foli takes care of the set-up and digital distribution with zero IT involvement from a hotel, allowing the digital version to serve as a complement to their paper copy.
Offering a digital copy of Where Magazine has numerous benefits.  Modern, tech-savvy guests prefer to access content digitally on their mobile devices, and Foli provides the means to do so.  Guests can now save great local tips and information on their mobile devices, which they can reference while out exploring a new city – a great benefit for a busy traveler!  A digital copy of Where Magazine serves to improve the guest experience for hotels & resorts everywhere.
"Foli continues to expand the reading choices offered through new partnerships with national and regional publishers.  We are very excited to bring hotels this new digital offering to help enhance the guest experience," says Henry He, Foli Founder & CEO.  "Guests want to consume content digitally, and this gives them a paper-free, visually enhanced digital offering to improve their stay.  For hotels already offering Foli's premium magazines and eBooks, this new partnership adds great local content to their storefronts."
To get your digital copy of Where Magazine, please contact Henry He at hhe@encipit.com or visit www.getfoli.com/#getfoli to request a digital copy for your business.