Now serving guests popular magazines and books digitally via Foli app in Austin, Houston, San Antonio, San Jose and Kansas City.  Foli provides each Hotel with valuable content to enhance guests' stay as well as a digital platform to host Valencia Group's own content. Serving brand and hotel information to guests alongside their favorite reading materials offers a better service, set to increase guest communication and revenue.
We're thrilled to enhance the guest experience at Hotel Valencia Riverwalk in San Antonio, Hotel Sorella CITYCENTRE in Houston, Lone Star Court in Austin, Hotel Sorella Country Club Plaza in Kansas City, and Hotel Valencia Santana Row in San Jose.
You may read the full press release below or at:  goo.gl/odlz2S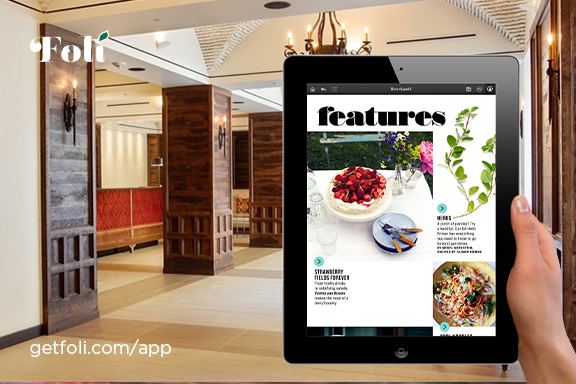 San Antonio, Texas (PRWEB) May 05, 2015 - Valencia Group hotels are upgrading their guest experience in all of their cities and providing the Foli app for free. This app allows hotels to give guests a digital magazine rack that they can experience from their tablet, smartphone, or other mobile device and enjoy unlimited access to multimedia, interactive, full – length premium magazines as well as eBook downloads during their stay. Upon departure, the publications can no longer be accessed as this is an upgraded service specifically designed for Valencia guests. Valencia Group hotels have long been known to provide high tech, high touch, and a saavy experience and this will add to the overall stay.
The three Texas hotels including Hotel Valencia Riverwalk in San Antonio, TX; Hotel Sorella CITYCENTRE in Houston, TX, and Lone Star Court in Austin, TX are the first hotels in Texas to offer this free app to traveling guests and the Hotel Sorella Country Club Plaza in Kansas City, MO is also a pioneer in this effort as well as the first hotel in Missouri to offer.
"This new offering by our hotel collection allows us to remain cutting edge and gives our guests an added benefit to staying at Valencia Group properties. Guests will be impressed to see popular magazines in digital and interactive format which also helps with our green initiatives to limit in room material. We think this is a service that today's traveler is coming to expect with the latest technology trends. Our primary objective is to always encourage guests to leave their rooms and enjoy our ambiance and offerings in each of our cities, yet we realize that for those traveling alone, dining alone, or for down – time in the evenings, this app is a wonderful addition to our amenities." says Roy Kretschmer, VP of Operations for Valencia Group.
Foli's partnership with Hearst Magazines, a top magazine publisher with over 20 titles give guests a variety of magazine options such as Food Network, Car & Driver, Cosmopolitan and more. The ebook publisher with Simon & Schuster providing its best-seller full-length ebooks give guests the option to enjoy the most popular titles during their stay.