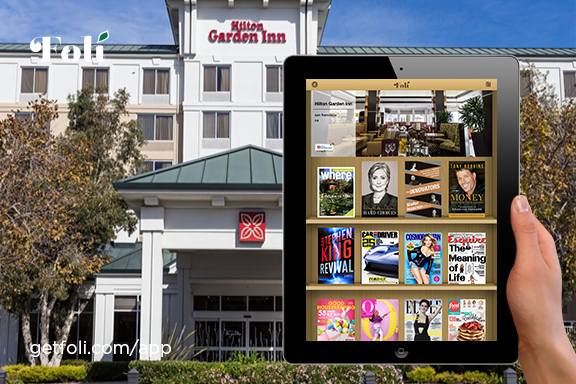 Hilton Garden Inn held their 2015 Global Brand Conference in Orlando, Florida this past month, where the senior executive team announced the brands 2015 pillars for success: driving revenue, encouraging loyalty and increasing profitability.  Derek Hudson, General Manager of Hilton Garden Inn San Mateo, has already taken initiative to drive customer loyalty by offering his guests Foli.  Foli is an app full of best-selling eBooks and popular digital magazines from top publishers that guests can enjoy while on property, or save for their flight home, adding great value for loyal guests.
"We decided to offer Foli because it's a great added value to our loyal guests as well as newcomers," says Hudson.  "The Best-Seller eBooks offered on the Foli app are great!  Our guests can browse the collection and dive deep into a new eBook at the end of a long day of business meetings or leisure activity.  We are so excited to offer our guests such great titles.  From Car & Driver to Cosmopolitan to Esquire, these are the premium titles our guests want to read!  Since the digital storefront is so easy to update, our guests will also have new best-selling eBooks to enjoy.  This provides our loyal guests a great library of always fresh, new digital content they can enjoy during their stay with us."
HGI currently receives 60% of its bookings from Hilton Honors members.  As such, Don Willingham, VP of brand performance support and sales, emphasized at the conference that "We need to do a better job of making members feel valued and appreciated."  One step towards this lofty goal, HGI is looking to establish a Hilton Honors floor in each hotel to recognize these guests with added value.  HGI also plans to develop a new premium room type "that would give us the ability to ask for a higher rate," said Willingham, as well as developing the leisure market to increase weekend and shoulder season business.
While Foli is the perfect added value amenity to offer alongside higher room rates, the premium content is also perfect for attracting – and keeping – leisure travelers looking to lounge by the pool and enjoy a great eBook or magazine on vacation.  As opposed to paper libraries offered at hotels, Foli's digital library offers the latest releases with zero operational upkeep from the hotel.  The premium magazine issues are added monthly before print issues even hit stands, and best-selling eBooks are updated to offer guests the latest titles.  This ensures that loyal guests have access to new, fresh, valuable reading material upon each return visit.
The Foli service can easily cover a members-only lounge as well as extend to guest rooms and public spaces, attracting new guests to your loyalty program.  As noted by Mark Nogal, Hilton Worldwide regional head of focused service brand management for Europe, Middle East and Africa, research shows that a "guests' first loyalty card tends to be the one they use most often."  Attracting millennials to join your loyalty program first may prove to be quite lucrative long-term for brands like Hilton Garden Inn.
Luckily, offering a cool, innovative, digital service for your modern, tech-savvy guests can be a great way to attract their attention and retain their business.  Contact Henry He, Foli CEO & Founder, hhe@encipit.com or visit www.getfoli.com/#getFoli to learn more.