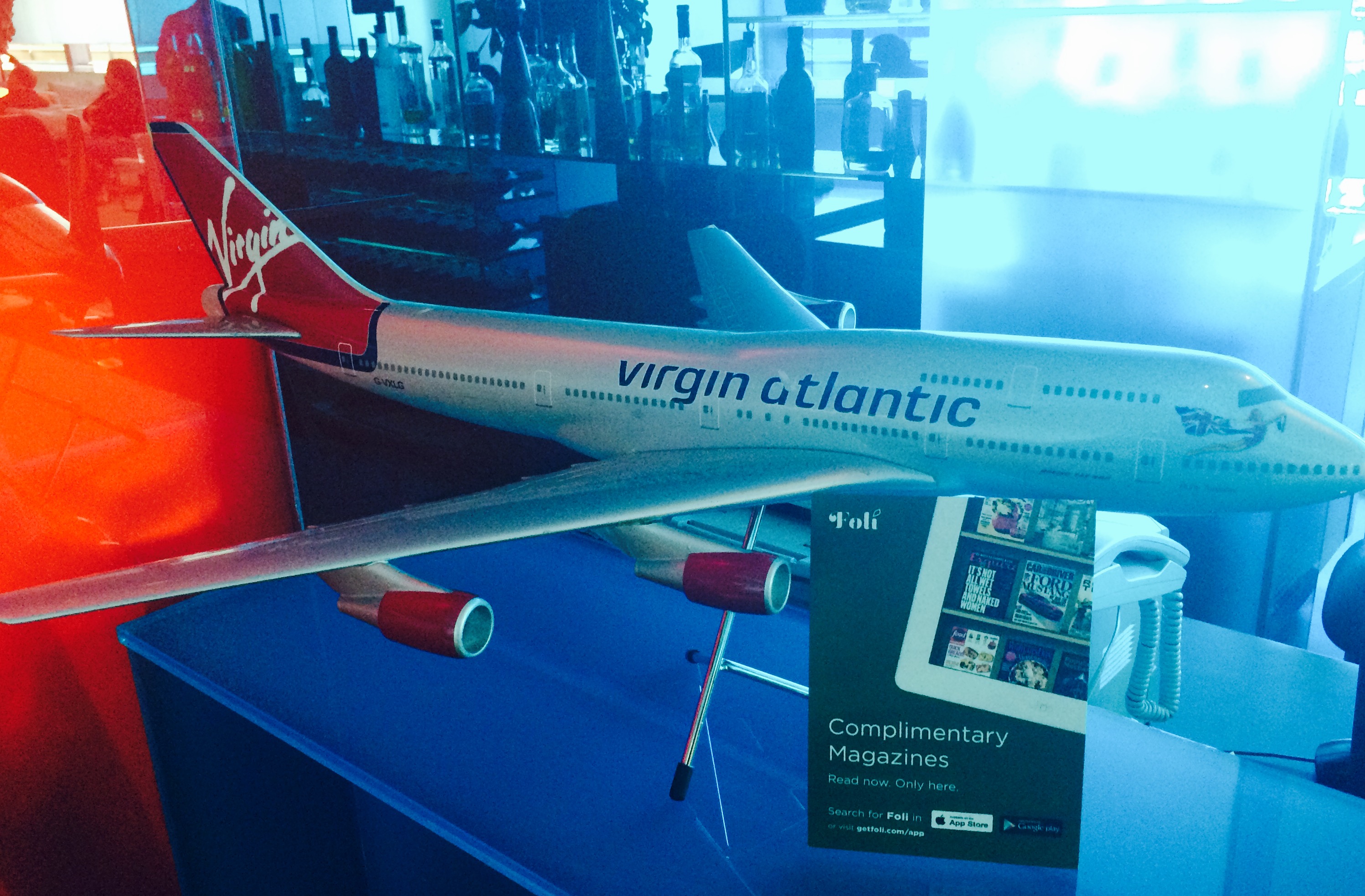 The Virgin Atlantic Clubhouse at San Francisco International Airport serves hundreds of guests complimentary food, drinks, newspapers and magazines every week.  The lounge provides an oasis from the chaotic terminals for members to relax comfortably before their flight.
Hours before travelers arrive, Virgin Atlantic's staff prepare the brownies, seltzer water, and carefully arrange the days newspapers and magazines, meticulously layered one by one along the window sills.  Every evening, as the last flight prepares for lift-off, the tedious clean-up begins.  Gathering all used paper strewn about the club as well as untouched copies resting along the window sills, pounds of newspapers and magazines are thrown out every single day.
Business as usual.  Well, it used to be.  Virgin Atlantic's SFO Club Lounge is leading the trend away from wasteful, costly, and inefficient paper toward efficient, convenient, digital innovation.  For Club Manager Robert O Wheaton, Foli was the perfect opportunity to make the transition.  Offering guests digital magazines instead of wasteful paper and saving thousands in operation costs, Foli is better for the environment and business' bottom-line.
Innovation is nothing new for Virgin Atlantic Clubhouse, which was the first club lounge to offer complimentary food and drinks to members.  "Putting guests first has always been our top priority!" says O Wheaton, "Foli's magazines from top publishers are not only digital, but full of multimedia, interactive features.  Our guests can watch behind-the-scenes videos of their favorite celebrities cover shoots, features not available in print.  We love offering our guests a better service while improving our business model."
An added perk, Foli serves members the latest issues days before the print hit stands.  Guests to the Lounge can also "save" articles to read in-flight, which may explain Foli's positive feedback from Clubhouse guests, who are clearly loving the service.  Foli Internal Surveys at the lounge show 100% agree Foli improved their stay, 75% are more likely to book this airline because of Foli, and 100% will use Foli during their next visit.  Not surprisingly, 100% want to use Foli at other locations.

Do you manage a club lounge?  Get Foli risk-free for your airport lounge today and start saving paper, improving club operation, and generating positive member feedback: www.getfoli.com/#getfoli