Luxury Maui Resort proudly offers guests Foli, a new app serving guests complimentary premium digital magazines on their mobile devices during their stay.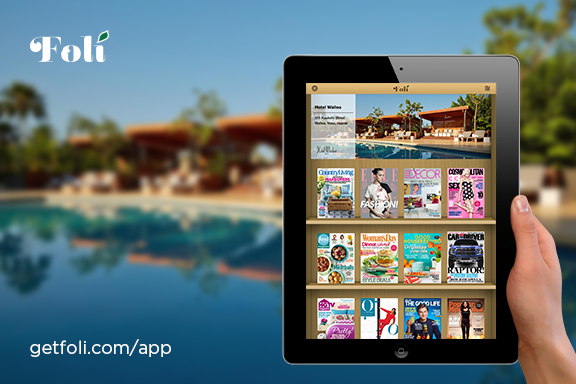 Spring has arrived and residents everywhere are planning their escape to paradise, otherwise known as the Hawaiian islands. Located just 300 feet above the sea, and offering the best of both beach and ocean view worlds, Maui's Hotel Wailea has become a familiar refuge for the sun-seeking, tech-savvy, luxury traveler.
Hosting an increasing number of guests arriving strapped to the latest tech gadgets, Hotel Wailea offers Foli to connect the worlds of tech and luxury.  As an award-winning luxury resort, Hotel Wailea is proud to be the first hotel in Hawaii to offer Foli, an app that gives guests access to complimentary premium digital magazines on their tablets and smartphones during their stay.
"We are proud to be a leader in luxury travel." says Markus Schale, General Manager of Hotel Wailea, "Foli is a perfect way to demonstrate that we are leading the trend – technology is the new luxury!"
Hotel Wailea was voted "Best Hotel in Maui" by Conde Nast Traveler Reader's Choice Awards 2014, and is considered the most intimate hotel property within the Wailea resort area, with only 72 suites on an expansive 15 acres.
Guests to the resort can enjoy beach services at Wailea Beach, stunning three-island panoramic views, poolside cocktails over sunset, and award-winning dining.  The one-bedroom suites provide the perfect Hawaiian escape, designed to feel like your own private luxury beach home.  Luxury with the feel of home made Foli the perfect amenity for Hotel Wailea.
"Our guests are delighted to learn they have access to a large library of complimentary magazines. It is the perfect amenity for a lazy day lounging by the pool!" says Christy Winterbottom, Director of Marketing for Hotel Wailea.
With Foli, hotels can create a digital magazine rack that guests can experience from their mobile devices.  Guests who download the free Foli app have unlimited access to multimedia, interactive, full-length premium digital magazines, in addition to the bar menu, spa menu, local information, and other materials hotels provide their guests.
However, upon departure, the publications can no longer be viewed, which serves as an exclusive amenity for resort guests.  Guests may save resort information, such as restaurant recommendations, to their Foli account via the "My Collection" feature to access anywhere, anytime, without WiFi.  A valuable tool for hotels & resorts to reach guests pre-stay, during-stay, and post-stay.
"Our guests love Foli!" says Winterbottom, "They are looking for hotels where they can leverage their technology gadgets to improve their experience. With Foli, we can differentiate ourselves from competitors!"